My Photography Philosophy
I believe in getting the best out of my camera and my abilities.
I do not use photoshop or any other editing tool beyond a crop here and there.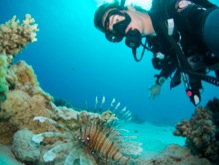 I find it much more satisfying getting the pictures looking like they do 'in camera'.
I do this by judging what the best composition and settings are at the time of the shot and getting a result that looks pleasing to my eye.
My Story
I started diving at the age of 12, in Bali as it was a short hop from where I grew up in Jakarta, Indonesia.

A passion for the water and marine life has always been a part of me and diving was the best way to experience and bring both loves of mine together. I have travelled extensively in South East Asia and have dived wherever and whenever it was possible. After finishing High School I achieved my PADI Divemaster qualification and upon completing University decided to pursue diving as a career.


My photography started off being a hobby and over the years has developed into an obsession. As with all photographers I have spoken to so far, there is always something to fix and change on the pictures I take and I'm always looking to improve.

Upon meeting Steve Warren and Mark Koekomoer of Ocean Optics, based in the UK, I was able to fill in any gaps in my knowledge and really push my photography to the next level. Since then I have been jumping in the water at any given opportunity with my camera and see what the limits are.


I have been based in Dahab for the past four years, where I have worked as a PADI Master Scuba Diver Trainer.